Mother's Day is quickly approaching, and you may still be looking for the perfect gift. Luckily, Ann Arbor hosts many businesses who would love to help you find a special gift or experience for the mother (or mother figure) in your life! We've compiled a list of great gift suggestions from local businesses. 
---
Gifts
Jewelry from Thistle & Bess 
Thistle and Bess provides upscale jewelry options such as signet rings, earrings, and even necklaces such as lockets. You might also find cozy items such as candles and slippers. Thistle and Bess prides themselves in curating unique, eclectic, and vintage treasures to share with the Ann Arbor area. 
They are also holding a Mother's Day Event. 
222 N 4th Ave, Ann Arbor. 734-369-6092.
---
A Belt Bag from Catching Fireflies 
Catching Fireflies boasts "a whimsical gift gallery" with a variety of accessories such as trendy belt bags, scarves, and clutches. They also have several aroma therapy items such as bath confetti.  
They even have a page with gifts specifically for mothers. 
419 Detroit St. Ann Arbor. 734-531-6293. 
---
Rock Paper Scissors provides a vast variety of gift items from stationary to luxury candles, and they offer the unique service of compiling custom-made gift boxes. This option allows you to fill out an interest survey and describe how much you'd like to spend. Rock Paper Scissors will then cultivate a box that meets your Mother's Day needs. 
Pre-made gift boxes are also available, such as the Mother's Day Brunchie Gift Box.
216 S. Main St., Ann Arbor. 734-531-6264.
---
Flowers are a classic Mother's Day gift. Family owned and operated, Lily's Garden has served the Ann Arbor area for 35 years and pride themselves on fresh, fun, and creative arrangements. 
They offer various arrangements and price options and even have a special Mother's Day webpage.
414 Detroit St., Ann Arbor. 734-663-2693.
---
Sweet Treats from Zingerman's Delicatessen
A Mother's Day gift of sweet treats might be the perfect option. Gift options from Zingerman's Delicatessen include chocolate truffle gift boxes and bakehouse sweets such as strawberry lemonade cupcakes or Hunka Burnin' Love Chocolate Cake. They even sell kits for breakfast in bed or easy dinners. You might also be interested in tickets to a special event such as Tea 101 or Deli All-Stars Tasting. 
422 Detroit Street, Ann Arbor. 734-926-4005.
---
A Bottle of Wine from The Earle
If you are interested in purchasing a bottle of wine as a Mother's Day gift, be sure to check out The Earle.
At this wine bar you can use curbside pickup or browse inside to find that perfect bottle. You could even book a table for wine sampling and food. 
121 W. Washington, Ann Arbor. 734-994-0211.
---
Crafting Kits from Spun
If you are seeking an artistic experience, consider a knitting or crafting kit from Spun. Mothers who enjoy knitting, crocheting, or embroidery will enjoy the variety of materials to use in their creations. You can even book them a class to help them grow their skills. 
410 N. 4th Ave, Ann Arbor. 734-780-7867.
---
A Great Book for Literati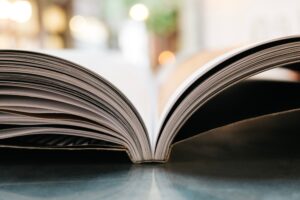 Treat the mother who loves to read with a book or a gift card to a local bookstore!
Literati is one of the top indie bookstores in the nation. Not only do they have a large collection of books and gifts, but they also host book clubs and special events.
According to the website, they believe in the life-changing power of a book. 
124 E. Washington St. Ann Arbor. 734-585-5567.
---
Experiences
Take a riverboat cruise and see the sights across the Detroit River. The Detroit Princess is the largest dinner boat in the midwest and offers several options for dates and times.
You can even book a lunch or dinner cruise to create a brief but special get-away for the mother in your life. 
1 Civic Center Drive, Detroit. 517-627-2154 or 877-338-2628.
---
Voted best yoga studio in Ann Arbor for five years, aUM yoga offers a variety of classes to soothe, stretch, and even energize busy moms.
Interested in providing relaxation and a sense of zen for Mother's Day? Gift an open class, purchase a gift card, or even book a private event for a group event! 
1220 South University, Suite 210, Ann Arbor. 734-707-7419.
---
A Spa Day at Bellanina Day Spa and Gift Boutique
Would the mother in your life enjoy a relaxing spa day? At Bellanina, she can enjoy a variety of services such as massage, steam showers, manicures, and facials.
She can then shop at the gift boutique, which offers skin care products that allow her to continue the pampering at home. 
201 North Fourth Ave, Ann Arbor. 734-327-1000.
---