By Dr. Alyssa Whitford and Ella Willams
Since 1984, the Petting Farm has been a go-to for family farm fun. The Petting Farm is a beautiful farm home to a variety of animals such as pigs, goats, horses, donkeys and even a bearded dragon. They seek to provide an interactive educational experience about farm life and animals to local families. 
Sunday, Monday, Tuesday, Thursday, Friday, Saturday from 10 a.m.-4 p.m.
3001 Earhart Rd. Ann Arbor.
Three Cedars Farm is the perfect place to celebrate the changing seasons! Not only do they offer a petting farm, they provide seasonal activities. During the fall, your family can enjoy pumpkin picking, hayrides, cider and donuts, and a corn maze! You might also visit for their "Country Christmas" season to enjoy photos with Mr. and Mrs. Clause, hot cocoa, Christmas trees and more!
Fall (until Nov. 23) Sunday–Thursday 10 a.m.-8 p.m; Friday–Saturday: 10 a.m.-10 p.m.
Country Christmas (Starts Nov 24) Friday–Saturday: 10 a.m.-8 p.m. Sunday 10 a.m.-5 p.m.
7897 Six Mile Rd, Northville.
If you're looking for a fun fall day filled with petting animals, sweet treats, and fall activities, Wiard's Country Farm is a great choice! From the 'Moo Moo Moonwalk' to fire truck visits, to the petting farm, there is guaranteed fun for your whole family. They offer a large variety of activities both on weekdays and on the weekend to enjoy the farm.
Wednesday-Friday 10 a.m.-6 p.m; Saturday-Sunday 11 a.m.-6 p.m.
5565 Merritt Rd, Ypsilanti.
Kensington Metropark Farm Center
If you visit Kensington Metropark Farm Center, you might just have a run in with a variety of animals such as geese, chickens, horses, cows, donkeys and rabbits. During the spring, the farm is full of new life and opportunities to meet the baby animals that recently joined the farm family. Kensington Metropark Farm Center is also an educational experience, as they offer opportunities to explore history through old farm equipment, a 150 year old barn, and displays of historic farming techniques. 
November-March 9 a.m.–4 p.m; April-October 9 a.m.–5 p.m. 
4570 Huron River Parkway, Milford.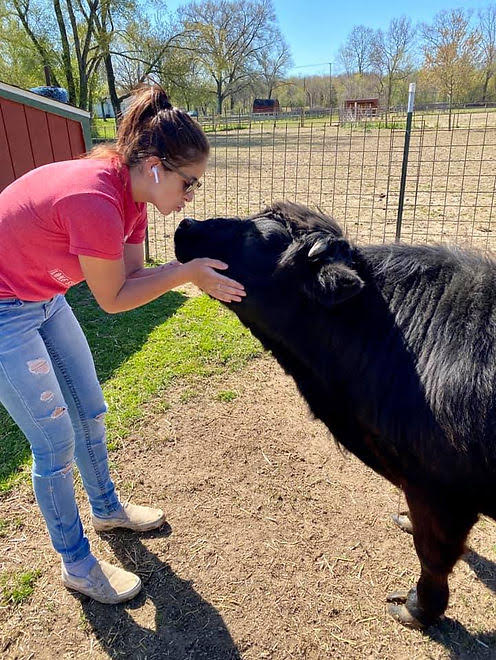 For an up close and personal experience, explore Carousel Acres! Carousel Acres offers pony rides and a petting zoo for an exciting hands-on animal experience. Carousel Acres bottle feeds their animals, meaning that animals are friendly, social, and excited to interact with you and your family! Looking to bring the fun to your own home? Carousel Acres will also bring the animals to you for Pony Parties and/or their Mobile Petting Zoo experience. 
Monday – Friday 10 a.m.-2 p.m; Saturday and Sunday 10 a.m.-3 p.m.
12749 9 Mile Rd, South Lyon.
Real Life Day Camp and Farm is an excellent choice for a family day to visit the farm, a birthday party or event, or to suggest to your child's teacher as a field trip. This farm site has a petting barn, tractor rides, horseback riding and more! They also offer a day camp for school-aged children during the summer. However you choose to enjoy Real Life Farm, you can count on them to provide a plethora of different animal activities and experiences for your child. 
Saturdays from 2-11 p.m. for parties and family groups (However, they do ask that you to call to make a reservation)
48700 Geddes Rd. Canton.
Maybury Farm is an engaging and educational experience for your family! By offering daily 'Animal Engagement' that ranges from teaching you how to hold a chicken to watching a farm employee milk a goat, they are dedicated to allowing the community to learn more about animals and farm life. They also offer a story time on Wednesdays and Thursdays to teach children about farm topics through a read aloud. For those looking for some fall fun, Maybury Farm's Great Fall Festival and Corn Maze is being held the weekend of September 30 and will provide live music, games, treats and contests such as a chili cook-off. 
April 11- October 29, Tuesday – Sunday, 10 a.m.-5 p.m. 
50165 8 Mile Rd., Northville.
RELATED:12 Weekday Ann Arbor Activities to Do With Your Toddler