Bust out the bug spray and sunscreen because summer is here! With different amenities, hikes, and living quarters, campgrounds across southern Michigan are offering fun and relaxation to families, travelers, and explorers.
From Ypsilanti to Grass Lake, we provided a list of several campgrounds to check out for a weekend or week-long getaway to the great outdoors. 
Located in Ypsilanti township, the KOA surrounds a private lake that offers swimming, fishing and non-motorized water activities all summer long with extended stay options available year-round. Besides hygienic facilities like showers and outdoor dishwashing stations, the KOA includes many on-site amenities such as sand volleyball, mini-golf and themed weekends. 
6680 Bunton Rd, Ypsilanti Charter Twp. 888-562-9584.
Waterloo Green Lake Rustic Campground
Sat in a cove around Green lake, this rustic campground offers a lakefront view with a wheelchair accessible boat launch from April through November. A yurt with a twin-size loft bed and two futon beds, camp stove and outdoor chairs is also available for reservation. 
Chelsea. 734-475-8307.
This campsite is open year-round for hikers at the halfway mark of the 17-mile looped Potawatomi Trail in Pinckney Recreation Area. This hike-in location has 10 campsites and is only available for one night stays so hikers can get back to miles of Michigan scenery. 
19787 Crescent Drive, Gregory. 734-426-4913.
Crooked Lake Rustic Campground
Outfitted with a boat launch, fishing pier, and miles of hiking, this campground is situated in the Pinckney Recreation Area on Crooked Lake. This campground has 25 sites and is open April through November.
8555 Silver Hill Road, Pinckney. 800-447-2757.
With over 150 sites, this campground is located in the Waterloo State Recreation area and is open May through mid-October. Each site is outfitted with a fireplace and outdoor table. Sugarloaf Lake supports a beach and boat launch while a playground and showers are a short walk away. 
8200 Loveland Road, Chelsea. 734-475-8307.
Waterloo Rustic Equestrian Campground
For those traveling with horses, this campground in the Waterloo State Recreation Area is built with the majestic animals in mind. A picket post, fireplace and picnic table sit at each site and the grounds are maintained in association with the Waterloo Horsemen's Association. The campgrounds are surrounded by a hardwood forest riddled with over 20 miles of equestrian trails and are available for reservations year-round.
8400 Loveland Road, Chelsea. 734-475-8307
Portage Lake Modern Campground 
Over 100 sites are sat beside Portage Lake separated into a North, Central and South loop.  Beach access, a concession store and playground are nearest to the North loop. This campground is open year-round with cabin rentals available. 
11700 Seymour Road, Grass Lake. 734-475-8307.
KC Campground in Milan sits on 20 acres with nearly 100 sites, separate areas for tent camping and cabin rentals. Open April through October with extended stay available year-round, this campground offers many seasonal weekend activities, basketball court, horseshoes, a playground and swimming pond. A camp store with convenience items is also on site.
14048 Sherman Road, Milan. 734-439-1076.
With views of Southern Michigan's rolling hills, JaDo campground has many snaking walking trails around the grounds and fishing pond. The campground is open May through mid-October and offers amenities like a volleyball and basketball court, playground and convenience store. 
5603 Michigan Ave, Tipton. 517-431-2111.
Sat on 150 acres, over 150 campsites and 2 rustic cabins are available to rent. A pool and large pond with a beach area are available for swimming. For land lovers, many sports courts and fields are available as well as hiking trails, a playground and a general store. Open May through October, Holiday RV campground hosts many events throughout the summer and fall.
9625 Knight Road, Grass Lake. 517-522-5846.
Apple Creek Campground and RV Park
Surrounded by 10 miles of hiking trails on 150 acres, Apple Creek Campground is home to over 150 campsites and cabins. With day passes available, spend a day in mid-April through mid-October at the heated pool, sports courts, mini-golf or arcade room. 
11185 Orban Road, Grass Lake. 517-522-3467.
Nestled inside the Pinckney Recreation Area is Bruin Lake campground which supports over 150 sites including a Yurt, which is available year-round available. Bruin Lake is open mid-April through mid-October for swimming, boating, fishing, and outdoor games. 
21237 Kaiser Road, Gregory. 734-426-4913.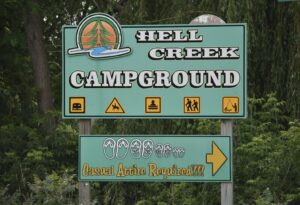 Miles of hiking and riding trails surround Hell Creek Ranch, a 100-site campground with an on-site horse stable. Open April through October, the ranch offers pool swimming, basketball and horseshoe playing, and river fishing and kayaking all summer long. 
10866 Cedar Lake Road, Pinckney. 734-878-3632.
---
The news that Jan Brett would be bringing her winter wonderlands to Schuler Books in…