Great options for exploring over Spring Break are a short drive away.  Maybe you only have a few days to travel, didn't get your planning done early, or the budget doesn't allow for a big trip.  There are many ways to create an enjoyable Spring Break for your family within reach. Cities within the Midwest provide exciting memories, without the hassles of airports or long travels.  Sometimes it is easier to stay close to home, but that does not mean it won't be fun. 
There are several drivable destinations in the midwest that are full of family friendly activities, food and lodging.  Pick a city you have always wanted to check out and immerse yourself in its culture, food and entertainment. 
Frankenmuth (~1.5hr. drive)
Known as Michigan's Little Bavaria, Frankenmuth is famous for fried chicken, family fun resorts, and celebrating Christmas year round. In addition to the many attractions, Frankenmuth is a very walkable destination for families to explore about an hour and 15 minutes away from Ann Arbor.  
---
The Zhenders family has upheld the tradition of food and hospitality for 160 years. Enjoy the full experience with a traditional family style fried chicken meal. Or, opt for the same chicken at a reduced price downstairs at the Z Chef's Café. 
730 S Main St, Frankenmuth. 844-802-8323. 
---
Zehnder's Splash Village Hotel and Waterpark
Not only providing fried chicken to the people of Frankenmuth, Zhender's also owns the largest waterpark in the city. The 50,000 square foot waterpark includes various attractions including a dumping bucket, water slides, zero-entry activity pool, water sports, lazy river and much more.
1365 S Main St. Frankenmuth, Mich. 989-652-6106. 
---
Bronner's Christmas Wonderland
The countdown until Christmas day is always up at Bronner's. This massive Christmas store has over 6,000 styles of ornaments. Many of the ornaments are Bronner's exclusives. 
25 Christmas Ln, Frankenmuth. 989-652-9931. 
---
Fun is a priority at this family resort. It is home to four indoor pools, 3 whirlpools and two water slides. There is also a large arcade with over 160 games and a mini golf course. 
1 Covered Bridge Ln, Frankenmuth, Mich. 989- 652-7200. 
---
Walk the cobblestone sidewalks of this Bavarian themed mall with bakeries, shops, wineries and more. 
925 S. Main St. Frankenmuth, Mich. 800-600-0105. 
Columbus (~3hr. drive)
The Ohio State Capital and home of The Ohio State University Buckeyes (we know, we know…),  is full of family fun activities. Columbus is about a three hour drive from Ann Arbor. 
---
This mall appears to be a town in itself with over 200 retail stores, restaurants, parks, fountain and entertainment venues. The American Girl store and LEGOLAND Discovery Center are big attractions at Easton. 
160 Easton Town Ctr, Columbus, Ohio. 614-337-2200. 
---
Many cuisines are served at this 145-year-old market. Some of the merchants include Hubert's Polish Kitchen, Hoyo's Kitchen and Satori Ramen Bar. 
59 Spruce St, Columbus, Ohio. 614-463-9664. northmarket.org.
---
Zookeeper Jack Hanna is a former director emeritus of the Columbus Zoo and Aquarium. In addition to the many animals at the zoo, kids can also enjoy the Columbus Zoo's roller coasters and rides. 
4850 W Powell Rd, Powell, Ohio. 614-645-3400. 
---
Holiday Inn Express Hotels and Suites Columbus-Polaris Parkway 
Enjoy this hotel's indoor pool, heated indoor pool and indoor whirlpool. The hotel pool also includes features for children including a small frog slide. Free breakfast and parking is also included.
8670 Orion Pl, Columbus, Ohio. 614-781-6100. 
---
Center of Science and Industry (COSI)
This science museum includes exhibits that are fun for the whole family. One of their current experiences is "Marvel: Universe of Superheroes" which features interactive experiences, exclusive artwork and movie props and costumes on display. They ask that guests and members reserve a ticket in advance to ensure a fast and contactless arrival. 
333 W Broad St, Columbus, Ohio. 614-228-2674.
Dayton (~3hr. drive)
The birthplace of Orville Wright has no shortage of history for a family interested in aviation. It is the sixth largest city in Ohio and has many museums and family friendly attractions to explore. This destination is about three hours from Ann Arbor. 
---
National Museum of the US Airforce
Located at the Wright-Patterson Air Force Base is the world's largest military aviation museum. More than 350 aerospace vehicles and missiles are on display. Admission and parking is free.
1100 Spaatz St, Dayton, Ohio. 937-255-3286.
---
History can be found inside and out at Carillon Historical Park including the 1905 Wright Flyer III. The park also has the largest carillon in Ohio, the Deeds Carillon.
​​1000 Carillon Blvd, Dayton, Ohio. 937-293-2841. 
---
The Boonshoft Museum of Discovery
A children's museum, science and technology center and zoo can be enjoyed all in one stop. Bats, snakes and meerkats are among the animals at the Discovery Zoo. One of the permanent exhibits is a fully enclosed treehouse called the MeadWestvaco Treehouse. 
2600 Deweese Pkwy, Dayton, Ohio. 937-275-7431.
---
Tru by Hilton Beavercreek Dayton 
The modern interior and family friendly amenities at Tru make for a restful and fun stay. There is an indoor pool, pool table and fitness center in the hotel. Complimentary hot breakfast is available in the lobby. It is located just 10 minutes from the Wright-Patterson Air Force Base.
3813 Colonel Glenn Hwy, Fairborn, Ohio. 937-988-0250.
---
There are many ways to have fun at this dairy farm. There are batting cages, miniature golf courses, a barrel ride, a driving range and a kiddie corral. If you plan accordingly, you can stock up at the Homemade Ice Cream Pint Sale March 31 to April 3 or participate in their Easter egg hunt on April 17.
6880 Springfield Xenia Rd, Yellow Springs, Ohio. 937-325-0629.
Chicago (~4hr. drive) 
One of the largest cities in the United States is located right in the midwest. The Windy City has no shortage of glamorous hotels, sights to see and family friendly attractions about four hours from Ann Arbor.  If you plan to do several attractions, it's worth looking into the Chicago CityPass. And, if you're up for debating Chicago vs. Detroit vs. New York style pizza, check out one of the many locations  Chicago style pizza including, Lou Malnati's or Giardanos.  If live events are of interest, Chicago always offers great sporting events, concerts, musicals, walking tours, and more.
---
With about 32,000 animals, families can spend hours at Shedd Aquarium exploring aquatic life. Among the sealife is beluga whales, sharks and the giant Pacific octopus. 
1200 S DuSable Lake Shore Dr, Chicago, Il. (312) 939-2438.
---
Skydeck Chicago
Step out on 1,353 feet in the air onto a 4.3 feet glass box extending off the ledge of the Willis Tower. Take advantage of this excellent photo opportunity and create the illusion that you are hovering over the city.
 233 S Wacker Dr, Chicago, Il. 312-875-9447. 
---
Along the shoreline of Lake Michigan, this 3,300 foot long pier includes attractions for the whole family. Rides, games, gardens, museums, restaurants makes Navy Pier one of the top attractions in the city. 
600 E Grand Ave, Chicago, Il. 800-595-7437.
---
Partake in an experience full of optical illusions and holograms. Highlights include the tilted room, rotated room, infinity room and the vortex tunnel. 
25 E Washington St, Chicago, Il. 312-722-6780.
---
Museum of Science and Industry
A very hands-on museum full of fun activities in so many areas of science.  Book your tickets ahead of time and book any extra exhibits as they often sell out. This museum is on the South side of Chicago, so it's a great stop on your way in or out of town.
 5700 S DuSable Lake Shore Dr, Chicago, IL 60637. 
---
Wendella is one of many companies that offer tours of the Windy City from the water.  There are different themes, but the architecture tour is one of the most popular.  It's also interesting for kids!
400 N. Michigan Ave., Chicago, IL.  312.337.1446
---
For the dinosaur lovers: the famous Sue T-Rex fossil can be seen here.  Don't have time to make it to the museum?  They do offer free virtual tours throughout the year. 
1400 S. Lakeshore Drive Chicago, IL 
---
Free admission for kids under 14, it's a great way to expose kids to world-renowned art. It And, they often have programming specifically for children and families.   also offers parents an opportunity to relive some of the famous moments from  Ferris Bueller's Day Off.  
111 S. Michigan Avenue, Chicago. 
---
Bring your doll for a tea experience at the  cafe. (as well as hospital, salon, and shopping for your doll). 
---
Travel back in time for dinner at Superdawg. The tradition began in 1948 and the classic vibe remains intact.  Sit in your car and have a car-hop serve Chicago hotdogs, sandwiches, fries and milkshakes.  Note: Ii's not in downtown but a fun stop if you're heading to the North Shore.
6363 N Milwaukee Ave, Chicago, Ill. 773-763-0660. Superdawg.com.
---
Location and views are two of the perks of the Swissotel.  Book a Swissotel Kids Suite for a two-room suite which accommodates up to 6 people. The Kid's Suite offers a family friendly experience with kid sized furniture and includes a complimentary movie, popcorn and milk and cookies. Games, toys, stuffed animals and other family fun activities are included in the suite. Complimentary breakfast is available at The Palm. 
323 E Wacker Dr, Chicago, Ill. 312-565-0565. swissotel.com/hotels/chicago
---
Stay in a contemporary art museum at this boutique hotel. The new exhibit "Pop Stars! Popular Culture and Contemporary Art"  includes 90 works of art by artists from around the world and is scheduled to open March 21. This spot is located near the Magnificent Mile and is home of the Lure Fishbar.
55 E Ontario St, Chicago, Ill. 312-660-6100. 
---
Stay in the same hotel as celebrities Elizabeth Taylor, David Bowie and Frank Sinatra once did. This boutique hotel offers a luxury stay with a fitness center, room service and a restaurant on site. The Ambassador Hotel has a special offer for midwesterners. Their Drive-In package includes complimentary parking for all residents of Illinois, Wisconsin, Iowa, Indiana, and Michigan (valid ID is required at check in.)
1301 N State Pkwy, Chicago, Ill. 312- 787-3700.
---
A combination of local tradition and French culture is represented throughout the hotel.
They are also hosting a Premières Fleurs Wine Dinner on Friday, April 8. A four-course menu created by Chef Cliff Crawford will be served at the dinner with carefully selected wine pairings with each course.  
20 E Chestnut St, Chicago, Ill. 312-324-4000. 
Grand Rapids (~2hr. drive)
This city about two hours away on the other side of the state is an area which celebrates nature, art and food within their local culture. Spend some time downtown Grand Rapids and in the Uptown neighborhood this spring break.  Check out our family-friendly weekend itinerary HERE. 
---
Beginning on March 25, the John Ball Zoo will be open to explore. They currently have ten different habitat categories in which their animals live. Members at the Detroit Zoo or Toledo Zoo could be eligible for 50% off admission. Call ahead in regard to this deal. 
1300 W. Fulton St, Grand Rapids, Mich. 616-336-4300.
---
Bring your family to a minor league baseball game this spring. The season starts April 12. They will play at LMCU Ballpark the week of April 12-17, 26-May 1, May 10-15 and May 24-29 for spring 2022. They also play throughout the summer. 
4500 West River Dr, Comstock Park, Mich. 616-784-4131.
---
Frederik Meijer Gardens and Sculpture Park 
There are a range of experiences offered at this popular family spot. Walk around the gardens in search of art and nature. Get an up close look at thousands of butterflies as they fly around in the Butterflies are Blooming exhibit March 1-April 30. 
1000 E Beltline Ave NE, Grand Rapids, Mich. 616-957-1580.
---
Can't decide on where to eat? The Downtown Market has something for everyone from barbeque to various asian cuisines. There are plenty of indoor and outdoor seating areas to sit down and enjoy your meal together, even if they all came from different vendors. Every Friday in March the market will be holding Flight Fridays where the vendors will be serving flights of their food. 
435 Ionia Ave. SW, Grand Rapids, Mich. 616-805-5308. 
---
When you eat at Hancock's, it feels like you are at a backyard cookout. The outdoor seating area is lined with turf, giving it that summer feel any time of year. Nashville hot chicken is their specialty, however, they offer multiple sauce options. 
1157 Wealthy St SE, Grand Rapids, Mich. 616-805-4232.
---
For a luxury stay, the Amway Grand Plaza is a Grand Rapids institution. Within this historic building is a Starbucks, Ruth's Chris Steak House, The Kitchen by Wolfgang Punk and several other dining options. Sitting in the lobby with its prominent staircases and chandeliers is an event in itself. 
187 Monroe Ave NW, Grand Rapids, Mich. 616-774-2000.
---
Holiday Inn Grand Rapids- South 
Enjoy a complimentary breakfast and the large pool at this affordable hotel. Kids can have some fun at the Little Dip Splash Pad in the pool area. 
6569 Clay Ave. SW, Grand Rapids, Mich. 616-871-9700
Jackson (~40 min.)
Take a day trip to Jackson and explore the city's museums and parks. This destination is only about a 40 minute drive from Ann Arbor.  Check out our day trip itinerary for Jackon HERE.
---
Art, science and history is displayed throughout the museum. Additionally, 11 historic buildings from the early 19th century and several buildings that were moved to the grounds in the late 1960s remain on six acres of land for visitors to explore. The museum also manages the Hurst Planetarium. 
3225 4th St, Jackson, Mich. 517-787-2320
---
This man made waterfall is an attraction from Memorial Day to Labor Day. The Cascades are known for their choreographed light shows.  This Jackson landmark was built in the 1930s and has been entertaining residents and visitors ever since. 
1401 S Brown Street Jackson, Mich. 517-788-4320. 
---
Jackson Candy and Fudge Factory
Nostalgia is radiated throughout this old-fashioned candy shop. Inside this building built in the 1800s is candy you might remember from your childhood along with fresh fudge, caramel corn and more. 
1522 E Michigan Ave, Jackson, Mich. 517-998-7070. 
---
Jackson is the home of the coney dog, meaning you can not leave the city without trying one. One hundred years of coney dog history lives within Jackson Coney Island. In addition to coney dogs, they also serve a variety of menu items for breakfast, lunch and dinner. 
615 E Michigan Ave, Jackson, Mich. 517-513-3369. 
---
Another selection of hotdogs is available at Junk Yard Dog. Choose from a variety of unique Michigan made hotdogs. Their pretzel dog is their best seller but they also serve the sloppy dog, firehouse dog, Chicago dog and more. 
128 W Michigan Ave, Jackson, Mich. 517-513-3385.
Traverse City (~3.5hr. drive)
While it is a major Michigan tourist attraction in the summer, there are many things that prove Traverse City to be fun year round. Multiple family resorts are available to stay and there are many beautiful sights to see around three and a half hours away from Ann Arbor.  We recently took a trip there – read about it HERE. 
---
Sightsee and learn about Michigan history at the Mission Point Lighthouse which is along M-37. The park is open year round where you can view the outside of the lighthouse, but starting in May, you get the opportunity to climb to the top. 
20500 Center Rd, Traverse City, Mich. 231-223-7324.
---
Nothing says fresh like enjoying ice cream while looking over fields of livestock. Moomers' scenic location is just 10 minutes from downtown Traverse City. Out of the over 160 flavors they make, they serve a rotating menu of 20 flavors a day. If you are feeling indecisive, try the ice cream flight and choose five flavors to taste. 
7263 N Long Lake Rd. Traverse City, Mich. 231-941-4122.
---
Traverse City's own 1950's style carhop, drive-in and diner serves classic burgers and hand-dipped shakes. The retro vibe, comfortable atmosphere and good food has led Don's to be a staple of the city. Try their cherry shake which uses real fruit. 
2030 US-31, Traverse City, Mich. 231-938-1860.
---
A luxury family friendly experience awaits you at the Grand Traverse. The resort has a total of three pools, three hot tubs and an indoor water playground. However, the indoor pools and hot tubs are closed weekdays from 1-4 p.m. For an active family, the resort has a large fitness and tennis center as well as golf courses.  
100 Grand Traverse Village Blvd, Acme, Mich. 231-534-6000.
---
Take a getaway to this themed-out waterpark and resort. Families can explore the four-story water fort treehouse, lazy river, waterslides and more in the large waterpark area. Great Wolf Lodge also offers MagiQuest, allowing kids to participate in a live action game. If you want the full immersive experience, opt for a themed room. 
3575 N U.S. 31 S, Traverse City, Mich. 866-478-9653.
Midland (~2hr. drive)
What might seem like an unexpected location for a staycation, Midland is home to gardens, restaurants and a luxury hotel. This is an opportunity to take time to take a break from work and relax in this calm town about two hours from Ann Arbor. 
---
Dow Gardens
Midland's major nature attraction consists of 110-acres of botanical gardens, a green house and picturesque bridges. Check out their unique children's garden, color garden or other areas full of nature. 
1809 Eastman Ave, Midland, Mich. 800-362-4874.
Dow Gardens canopy walk. Photo by Mary Gensen.
---
H Hotel
Have a luxury staycation at the H Hotel. If the Olympics made you want to try curling, you can actually do that at the H Hotel's outdoor curling rink. Within the hotel are multiple dining options including  ONe eighteen, Cafe Zinc and the Oxygen Lounge. You can also choose to dine in one of their winter dining pods. 
111 W. Main Street, Midland, Mich. 833-798-4493.
Curling and private dining globes at the H Hotel in Midland.  Photo by Mary Gensen.
---
A major landmark in Midland is The Tridge, a three legged footbridge which spans the confluence of the Tittabawassee and Chippewa Rivers in Chippewassee Park. The unique engineering of this bridge makes it a must-see when you are spending the weekend in Midland. If you go during a holiday or special occasion, you might catch one of their light shows. 
---
Great Lakes Loons Minor League Baseball
Catch a game at Dow Diamonds. Opening night is April 8 against the West Michigan Whitecaps. In addition to that weeked, they will be in town this spring the week of April 19-24, May 3-8 and May 17-22. The season also goes on throughout the summer. 
825 E Main St, Midland, MI 48640. 989-837-2255.
---
Try Louisiana barbeque at Molasses Smokehouse. Their menu includes ribs, tacos, sandwiches and more. One of their more unique menu items is burnt ends mac and cheese. 
201 E Main St, Midland, MI. 989-486-9730. 
Toledo (~1hr. drive)
Take a trip to Toledo and experience all of the family fun activities just an hour away. You can pack it all in one day, or spread it out and take multiple day trips to Toledo.  We gathered some ideas for you HERE. 
---
Hands-on science experiences are the Imagination Station's specialty. Your family might have so much fun here that you forget you are learning. The most recent exhibit is called "Worst-Case Scenario: Survivor Experience" which has a lighthearted approach to testing problem solving skills in an emergency situation. 
1 Discovery Way, Toledo, Ohio. 419-244-2674.
---
Along the paths of the Toledo Zoo are over 720 species. Find yourself observing habitats such as the rainforest, arctic and desert. In 2015, the Aquarium received a $25.5 million renovation to enhance the experience of seeing diverse aquatic life. 
2 Hippo Way, Toledo, Ohio. 419-385-5721.
---
Learn about art history this spring break in Toledo. Ancient artifacts, modern art and work by famous painters such as Vincent van Gogh and Pablo Picasso live in this museum. If you want to make sure you don't miss anything, request a group tour. 
2445 Monroe St, Toledo, Ohio. 419-255-8000.
---
Beautiful flowers and rich outdoor education are both present at the gardens in the spring and summer. Explore the gardens through The Garden's Discovery Trail which includes "playable places" throughout such as the Nature Lab, Pondside Meadow and Firefly Woods. 
5403 Elmer Dr. Toledo, Ohio. 419-536-5566.
---
Famous for its hotdogs and Hungarian cuisine, Tony Packo's is part of the Toledo tradition. Some of their specialties include hotdogs, pierogies and chicken paprikas. 
1902 Front St, Toledo, Ohio. 419-691-6054.
Detroit Area (~45min. drive)
Just 45 minutes from Ann Arbor is the largest city in Michigan. Art, music and culture is prominent throughout this busy city.  With so many great sporting events, musicals,and restaurants, check to see who is in town.
---
Catch a show at the Fox Theater. Built in 1928, the theater became a National Historic Landmark in 1988. Some family highlights at the theater this season include Trolls Live!, Disney Princess – The Concert and Blue Man Group. 
211 Woodward Ave, Detroit, Mich. 313-471-7000.
---
With lots of great kid activities (often free!), and free live concerts every Friday, the DIA has something for everyone. Visit their site for current exhibits.
5200 Woodward Avenue, Detroit.  
---
The Henry Ford Museum of American Innovation 
Learn the history of the automotive industry through this captivating museum. Historical highlights at the Henry Ford Museum of American Innovation include the chair where Abraham Lincoln was shot in, and Rosa Parks Bus. The Henry Ford currently has a limited engagement exhibition Apollo: When We Went To The Moon. This exhibit, included with admission, examines the cultural, technological, and political context of the Apollo era.  Visitors will be able to view more than 100 artifacts that are on display from the U.S. Space and Rocket Center.  These include real pieces of the Apollo 11 lunar module, detailed scale models of the Apollo command module, authentic space suits, and more!  The exhibit is only here until May 8th, so Spring Break is a great time to check it out.
20900 Oakwood Blvd, Dearborn, Mich. 313-982-6001.
---
Greenfield Village is on the campus of The Henry Ford Museum of American Innovation. Celebrate American traditions along the paths of this historic village. You can even ride a Model T or a horse drawn carriage. Amoung the historic buildings brought to Greenfield Village is Edison's Menlo Park. You might even get to watch a 1867 baseball game. 
20900 Oakwood Blvd, Dearborn, Mich. 313-982-6001.
---
Located on the east side of Detroit's West Village, Sister Pie makes homemade pies daily. All pies in the shop are first come, first served. You can preorder to ensure you get your favorite pie. Currency they are selling salted maple and honey lemon meringue pie. They also make cookies and other baked goods. 
8066 Kercheval Ave, Detroit, Mich. 313-447-5550. 
---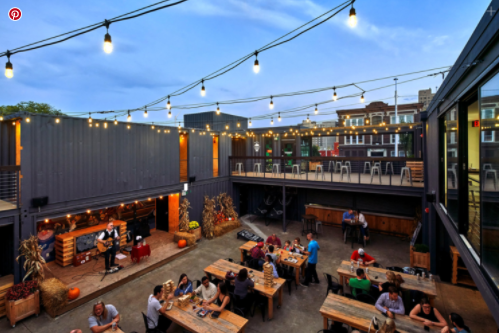 Detroit Shipping Company 
The Detroit Shipping Co. website says that, "The food of a five-star restaurant. The atmosphere of a beer garden. The walls of a shipping container." It has five food-truck style cuisines, full service bars, a coffee and ice cream booth, a small stage with live events, and picnic table seating.
474 Peterboro St., Detroit.
---
The newly renovated space provides casual fine dining (American comfort food) with a good kids menu.
500 Woodward Ave., Detroit.
---
Mudgie's Deli and Wine Shop
Located across from a playground, the restaurant provides creative sandwiches in a funky space. They also have vegetarian, vegan, and gluten free options.
1413 Brooklyn St., Detroit.
The Food Network Named Mudgie's "Leggo" Sandwich One of The Best Sandwiches in America. Photo courtesy of mudgiesdeli.com.
---
For more fun spring break ideas check out our article "Midwest Staycation"