Summer may be seen as the outdoor season, but autumn also offers lots of opportunities for outdoor fun. Try some of these family activities, and fill your family's senses with delight.
---
Attend a football game
Gather your blankets and head to the stadium. 
High school, college, and pro football games are great fun for kids and parents alike. Take along a bag of popcorn and thermos of hot cocoa, then snuggle up and get ready to cheer on your team.
Local stadiums:
Michigan Stadium (The Big House)
Watch a University of Michigan football game at the largest stadium in the nation. Join fans from all over the world to watch the Wolverines play.
1201 S Main St, Ann Arbor. 734-647-2583.
Rynearson Stadium (The Factory)
Support the Eastern Michigan University Eagles at Rynearson Stadium
799 N Hewitt Rd, Ypsilanti. 734-487-2282. 
Instead of watching the NFL on TV, travel to Detroit to watch the Lions play at Ford Field.
2000 Brush St, Detroit. 313-262-2000.
---
Visit an apple orchard
Take your kids apple picking, and top off the day with cider and doughnuts, a hayride, and end-of-the-year picnic. There are also several cider mills which offer family fun activities and tasty treats. 
Local orchards:
This family-owned and oriented orchard in Milan offers pick-your-own apples as well as pumpkins. Fresh made apple cider and doughnuts can also be found here. 
6580 Judd, Milan. 734-482-2342. 
Wiard's Orchards and Cider Mill and County Fair
A full day of fun can be had at Wiard's. In addition to apple picking and cider and doughnuts. Several different attractions are available for families to enjoy including a corn maze, animal petting farm, playgrounds and more. 
5565 Merritt, Ypsilanti. 734-482-7744. 
There is the option to pick-your-own pumpkins and apples at this farm. Doughnuts in flavors such as apple, pumpkin, blueberry and more. 
12758 Jordan Rd. Saline. 734-492-1212.
---
Walk in the woods
As flies and mosquitoes retreat, it's the perfect time of year for a walk in the woods. Look for animals scurrying about gathering for the long, cold months ahead, and don't forget your binoculars. Bird Watching is also popular in local parks as they migrate south.
Once the leaves start to change in Michigan around mid October, the parks and forests are the places to be. Take yourself through a color tour at Washtenaw county's local parks. 
Local wooded trails:
While Rolling Hills is a fun park to go to in the summer because of its waterpark, its wooded area offers trails perfect for fall fun such as walking, running, biking and hiking. View the fall leaves on the ¾-mile nature trail. 
7660 Stony Creek Rd, Ypsilanti. 734-484-9676.
Check out the Hoyt G. Post Trail at this park which leads you through an accessible one mile boardwalk. This wooded area also is home to the historic grist mill. 
4650 Geddes Rd, Ann Arbor. 734-971-6337. 
A mixture of upland and floodplain tree species can be found in the Bitton Woods Nature Area. The variety of trees makes this a good spot to see the fall colors. 
2960 Washtenaw Ave, Ann Arbor. 734-971-6355
This natural area contains over 500 species of plants and several habitats. Take a hike on Park Lyndon's two miles of marked nature trails. 
18801 N Territorial Rd, Chelsea. 734-971-6337. 
On the east side of the Huron River, this park offers nature trails along the scenic river. 
750 Longshore Drive, Ann Arbor. 734-794-6110.
---
Find a festival
Apple, pumpkin, fall harvest, and many more festivals are found this time of year featuring food, arts and crafts, kids' games, pony and wagon rides, and more. 
Check out this year's local fall festivals.
---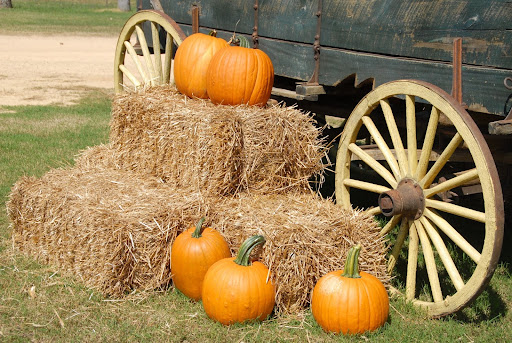 Begin a family tradition of picking your pumpkins from a patch. After cleaning out the pumpkins, make roasted pumpkin seeds, a yummy treat that kids love. 
Rinse the seeds, pat them dry, and coat with melted butter. Spread the seeds on a cookie sheet, sprinkle with salt, and bake at 350 until golden brown. Be sure and stir them occasionally.
Local pumpkin patches:
DeBuck's Corn Maze and Pumpkin Patch
DeBuck's offers 20 acres of pumpkins for families to find the perfect pumpkin. A variety of sizes and colors grows in their field. Many other fun fall attractions can be enjoyed at this pumpkin patch as well. 
50240 Martz Rd, Belleville. 734-260-03345.
This is a biodiverse and USDA certified  organic U-Pick farm and farmstand. They offer U-Pick throughout the year, but in the fall, families can pick their pumpkin at Show Farm. 
4700 Whitmore Lake Rd, Ann Arbor. 917-837-0975. 
Wiard's Orchards and Cider Mill and County Fair
Pumpkin picking is among the many fun activities at Wiard's. Orange pumpkins of a variety of sizes for families to pick out. 
5565 Merritt, Ypsilanti. 734-482-7744. 
This has been a working farm since 1852. A variety of sizes and prices of pumpkins can be found at Wing Farms. 
5335 Dexter-Ann Arbor Rd, Ann Arbor. 
Pumpkins of many shapes and sizes are available at Nixon Farms. Among the many pumpkin varieties are Long Island Cheese, Baby Boo, Big Max and Jarrahdale. 
6175 Daly Rd, Dexter.
---
Kids delight in finding their way through cornfield mazes. Watch your kids think critically about weaving through these mazes. 
Local corn mazes:
DeBuck's Corn Maze and Pumpkin Patch
Families can challenge themselves to find their way through 15 acres of corn maze. There are easy, intermediate and hard options for families to choose their level of difficulty for their adventure.
50240 Martz Road, Belleville. 734-260-03345.
Wiard's Orchards and Cider Mill and County Fair
Families can explore the corn maze at Wiard's during a day of fall fun. 
5565 Merritt, Ypsilanti. 734-482-7744. 
Blast Corn Maze at Nixon Farms
The Blast Corn maze at Nixon Farms offers 14 acres of fun. There are exit options for beginners and for advanced corn maze enthusiasts. 
6175 Daly Rd, Dexter.
---
Take a railroad excursion
With the colors of fall blazing under bright blue skies, a scenic railroad excursion is a sure bet. 
Local railroad excursions: 
Southern Michigan Railroad Fall Color Tour
Board the train in Tecumseh and prepare to see fall colors on this two hour train ride. This tour runs October 7,8,14 and 15. During the last weekend, passengers are encouraged to attend in costume. 
Downtown Tecumseh.
The Henry Ford's Greenfield Village offers historic train rides, giving passengers a tour of the land. 
 20900 Oakwood Blvd, Dearborn. 313-982-6001. 
---
Horseback rides. 
Head to the stables and enjoy the fall colors on horseback. 
Local horseback rides:
Brighton Recreation Riding Stables
These riding stables are open on weekends during the fall for people to take a leisurely trail rail on horseback. Reservations need to be made for trail rides. 
6660 Chilson Rd, Howell. 810-534-5063
Horse' N Around Stables Waterloo 
The stables are open May through October. These trails are full of nature and wildlife. Reservations are required for trail rides. 
12891 Trist Rd, Grass Lake. 734-637-4457. 
Horse' N Around Stables Pinkney
Horse' N Around's Pinkney stables are open year round for reservation only. It is only closed during rifle season. 
5833 Spears Rd, Pinckney. 734-637-4457. 
---
Parades and marching bands
Keep an eye out for when the high school near you announces their 2023 homecoming parades. 
Be sure to take a blanket and snacks, and enjoy the colorful floats, majorettes, cheerleaders, and marching band. Also, don't forget the spectacular Thanksgiving Day parades.
---
Fall activities to do at home
Make a bird feeder or house
Kids will enjoy the carpentry experience and marvel at watching birds make use of the kids' creations.
Kits are available in hobby stores and online for making bird feeders. 
To make one from scratch, visit your library and check out a book on how to build a birdhouse, or find free instructions on the Internet.
Hold a pumpkin sale
If you have little entrepreneurs, have them set up a pumpkin stand in your front yard. Find an orchard where pumpkins are cheap, then have your kids purchase a small stock to sell for a higher price. 
Hot cocoa, baked pumpkin seeds, or doughnuts are profitable additions.
Plant perennials and bulbs
Let your kids try out their green thumbs. After all, fall is the time of year to plant perennials and flower bulbs. 
Let your kids choose some plants from the gardening store, and allow them to help design the garden. A hand-painted rock or two adds color until the spring blossoms bloom.
Leaf fun
Do you remember diving into the crisp fall leaves when you were a kid? Grab some rakes, and have your youngsters pitch in. Pile up the leaves to jump in, build a fort, and even have a leaf fight.
Host a campfire cookout
If outdoor fires are permitted in your area, have the kids round up neighborhood friends for a cookout. Hot dogs, hot chocolate, marshmallows, and s'mores are a traditional way to top off the season.
Have everyone take turns telling stories around the fire. If you have little ones, check-out library books with autumn themes to read to the youngsters.
Make a scarecrow
What's fall without a scarecrow on your porch? It is easy to make. Just buy a couple of bales of straw, then have each family member gather some old clothes and hats. Stuff it using string to tie off the hands, feet, and head.