Regardless of where you are, chances are that you've seen a Little Free Library in passing. At first it can seem a little silly as the libraries look almost like an oversized mailbox. However, once you stop at a library (even if it is just for a minute), you will probably realize how awesome they really are.
Little Free Libraries is an international organization working to promote the free exchange of books within a diverse range of communities. Anyone who wants to can start a library. Everyone has the option to buy a library template from littlefreelibraries.com or design a library themselves. Even if you don't want to start a library, you can always participate by leaving a book, taking a book, or both! Little Free Libraries are meant to engage the community while also providing an opportunity to those who may not have access to literature. According to a survey done by the nonprofit, 92% of survey participants agreed that their neighborhood feels like a friendlier place because of the library. Washtenaw County has over 100 registered Little Free Libraries and a few more that are completely locally based.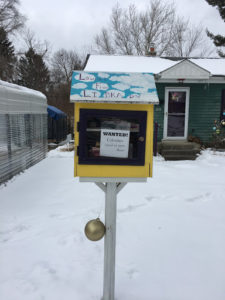 To the right is a Little Free Library found in front of 833 Starwick Drive, just a ten minute walk away from A2 STEAM in Ann Arbor. This library had lots of adult novels. I was personally able to pick up My Grandmother Asked Me to Tell You She's Sorry by Fredrik Backman which has been a great read so far. This library was almost completely full, almost begging for someone to stop by and take a look at all of the great options. If you are passing by the area, you may also see other Little Free Libraries at A2 STEAM and around the neighborhood. 
There is one Little Free Library near Logan Elementary school at 8685 Traver Rd. This library had more of a mix of children's novels and adult literature. As the literature selection is based on the community, the options vary from library to library. Keep that in mind as you're searching for the next Little Library to explore. 
Main areas of Washtenaw County aren't the only places to find Little Libraries. This library is Ms. Malcolm's adorable Little Library. This one is tucked away in a neighborhood in Pittsfield Township. Although most Little Libraries will be found on main walkways, small residential areas hide these awesome treasures as well. Primarily, this one had children's literature but there were a few gems in the library for adults as well. 
The libraries above have different design styles but ultimately serve the same purpose: to enrich the community. Additionally, these libraries were found in completely different areas. Washtenaw has so many libraries to promote togetherness, especially in times of COVID where we can't all physically come together. It's the perfect way to explore our county and check out new books!
Other Little Free Libraries in Washtenaw (or around the world) can be found at littlefreelibrary.org.