As a children's literature enthusiast, I was thrilled to see that quite a few of the new books being sold this fall for middle-school and YA are books that feature diverse characters or are written by authors of diverse backgrounds themselves. 
I popped into Ann Arbor's very own Literati to talk to Deb Leonard — who purchases the middle-grade and YA books for the bookstore — what books she is personally particularly excited about. I know after talking with her, I was inspired to set a weekend date with myself and a giant pot of tea in order to enjoy some of these
---
Race to the Sun, by Rebecca Roanhorse
Deb describes it as her own personal favorite: it's an #ownvoices book of an Indigenous 7th grader trying to figure out where she fits in. She doesn't have any talent, but she realizes she can see monsters, even when she's wearing a suit and tie–like her father's new boss. Unbeknownst to Nizhoni, in Navajo mythology, there are twins with magical powers, and she and her brother are descended from them. When danger threatens their family they must go on a quest to discover how to save their family, and themselves. Deb says, "There's so much Native mythology in this book and I loved it."
---
The Parker Inheritance, by Varian Johnson
"It's rare," Deb says, "to find a good middle-grade mystery that you don't see the answer coming a mile away–but this one pulls it off!" 
It's about a Black family whose grandmother dies, and they must travel to her home to clean out the house. As they're doing so, the protagonist, Candice, discovers her grandmother had been one of the city's first Black manager, but lost her job because she had the city dig up the new tennis court they'd installed, and no one knows why, till Candice discovers a letter. The story details some of the racial injustices from the 50s.
---
Paradise on Fire, by Jewell Parker Rhodes, an #ownvoices book. 
A young Black girl, deeply affected by the fire that killed her parents, goes to a summer camp in CA. While she's there, a wildfire starts and threatens the camp's safety, and she and other kids need to escape and use survival skills and spiritual intuition to survive. 
---
Tristan Strong Destroys the World, or any of that series, by Kwame Mbalia. 
Deb notes that this series is produced by a Rick Riordan imprint (bestselling The Lightning Thief author), which aims to feature diverse voices, and this entire series has been well-received. 
This book is about a young Black boy who has superpowers, and has just returned home from an adventure in Alke with African American folk heroes and gods but must return on a quest to rescue his kidnapped grandmother and stop the mysterious villain.
---
Midsummer's Mayhem, by Rajani LaRocca
This is a modern fantasy retelling of Shakespeare's play about an eleven-year-old Muslim girl named Mimi. She is a baker who is aspiring to win a culinary competition at the new bakery in town. She discovers magical exotic ingredients with the help of a new friend, Vik, and bakes the ingredients into delicious treats, but as her family begins acting strangely, she needs to uncover what's happening and how to stop it. Deb says, "It's a really lovely family story, as well as an enjoyable fantasy."
---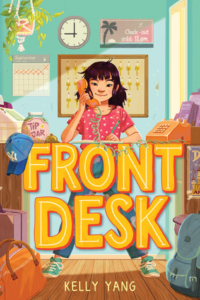 Front Desk, by Kelly Yang
Front Desk is about a young girl named Mia whose family lives and works at a small motel with her parents, who are secretly hiding immigrants from the unkind motel owner who doesn't pay her parents well and tries to cheat them. Deb says, "It's an award-winning novel and a very sweet and engaging story."
---
New Kid by Jerry Craft
Jerry Craft won the Newberry Award for this graphic novel. The protagonist, Jordan, is in 7th grade and loves drawing cartoons, but is in a strict academic school where he is one of the only kids of color. He finds himself not fitting into either his Washington Heights home or the Riverdale Academy School. Based on the author's family, it's an engaging book about identity and finding yourself. 
---
Aru Shah and the End of Time, by Roshani Chokshi
The tale centers on twelve-year-old Aru Shah who feels like an outcast and stretches the truth to try to fit in at school until she discovers the world of Hindu mythology–which turns out to be very real. Once, caught in a fib, she tries to prove the existence of a cursed lamp, and ends up freeing an actual curse. Now she has to reverse the curse before it's too late. 
---
Look Both Ways by Jason Reynolds
And lastly, Deb cannot recommend Jason Reynold's middle-grade and YA books enough: "I would sell his books out of the trunk of my car, everywhere I go, if I could! Everything he writes is fabulous." A few of his recent books are Look Both Ways, Track Series (Deb particularly recommends this for young people who like action/sports books), and Lu. 

All these books and more can be found at Literati's website or in person at their bookstore at 124 E. Washington, Ann Arbor!