By Donna Iadipaolo
Blazin' Burgerz in Ypsilanti is a rare gem of a burger joint, with many accommodations for those who wish to go vegetarian or eat healthier as well. Their menu is also "halal," which follows certain dietary restrictions of Islamic law for those who observe.
But Blazin' Burgerz appeal is for everyone — especially kids. Its fun menu is sure to interest the children and young at heart in the family, with such kid favorites as cheeseburgers, mac and cheese, chicken tenders, and yummy shakes. 
Blazin' Bugerz opened while many restaurants were closing during the global pandemic and, according to many, this spot serves the best burger in the town with a seemingly loyal customer base.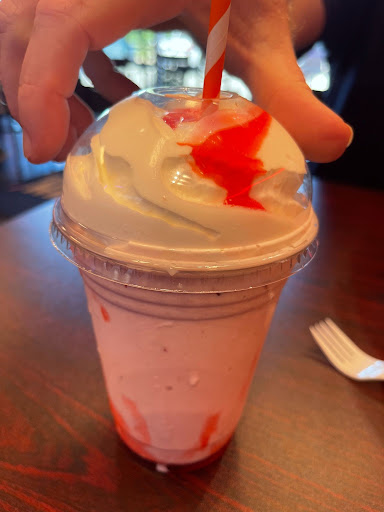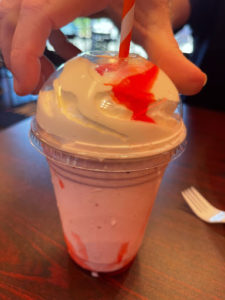 Blazin' Burger Offerings
The restaurant reportedly began by young entrepreneurs in their 20s, both of whom graduated from Eastern Michigan University.
We tried a couple of delicious burgers and were happy with the results. Since the name of the establishment is "Blazin' Burgerz" it seemed mandatory to try the burger with the same title, the Blazin' Burger. The "blazin''" aspect of this burger is all the spicy components such as the pepper jack cheese, jalapenos, and spicy sauce. It had a nice kick to it, but not so hot that the flavors of the entire burger were overwhelmed. The accompanying veggies in the burger, such as the lettuce and tomato, tasted very fresh. 
We also tried the bacon, egg, and cheeseburger. It tasted like a hearty breakfast sandwich with the addition of a hamburger as well as the nice components of lettuce and tomatoes. 
If you want to go healthier than the red meat, you also have the option of picking chicken breast, veggie patty, falafel patty, or even a portobello patty. The variety of bun choices include sesame, kaiser, onion, brioche, pretzel, tortilla wrap, lettuce wrap, or salad style. 

Image courtesy of Donna Iadipaolo.
More Than Burgers
They also offer hot dogs and "Blazin' Bowls" where you can get the different protein choices atop mac and cheese, grilled onions, pickles, along with other toppings like mushrooms, egg, guacamole, and chili.
The "Appetizer Sampler" allows you to try all the various sides with mozzarella sticks, onion rings, mac and cheese bites, fried pickles, and a full order of their fries, which are very crispy and nicely spiced.
Their chicken wings are larger than at other places and have a very crispy outer coating. The various sauces that you get are then placed on afterward. The sauces offered for the wings include hot, fire, bbq, spicy bbq, garlic parmesan, spicy garlic, Jamaican jerk, mango habanero, sweet teriyaki, honey not, Korean bbq, lemon pepper rub, cajun rub, Jamaica jerk rub, and plain.
We also enjoyed the most scrumptious strawberry cheesecake shake, which also had quite an artistic presentation as well. There are, in fact, many delectable desserts that will please all as a nice end to a hearty meal.
Family Atmosphere
The atmosphere of the establishment is also fun and clean. There is original art on one side of the restaurant with the name of the restaurant, "Blazin' Burgerz" as the bun of a cheeseburger and then flames emanating from the entire burger, to demonstrate its spicy options. Colorful glass lights, of blue, red, yellow, and orange are suspended from the ceiling with bar stool seating against the wall at a higher level. There are also more traditional tables and chairs throughout the restaurant and some outdoor seating as well. 
The Short Course
Kid-friendly: The menu is extremely kid-friendly with burgers, hot dogs, mac and cheese, chicken tenders, and shakes.
Kids' menu: No specific kids' menu, but prices and meals are great to share with children.
Anything healthy for kids: Healthy alternatives such as chicken breast, falafel patty, and vegetarian patties. Also, smoothies are offered. \
Food allergy concerns: Can accommodate, ask the server.
Noise Level: Moderate inside.
Bathroom Amenities: Clean and manageable.
Highchairs: Available.
To Avoid the Wait: Small area of seating indoors and outdoors.